1-3 Hours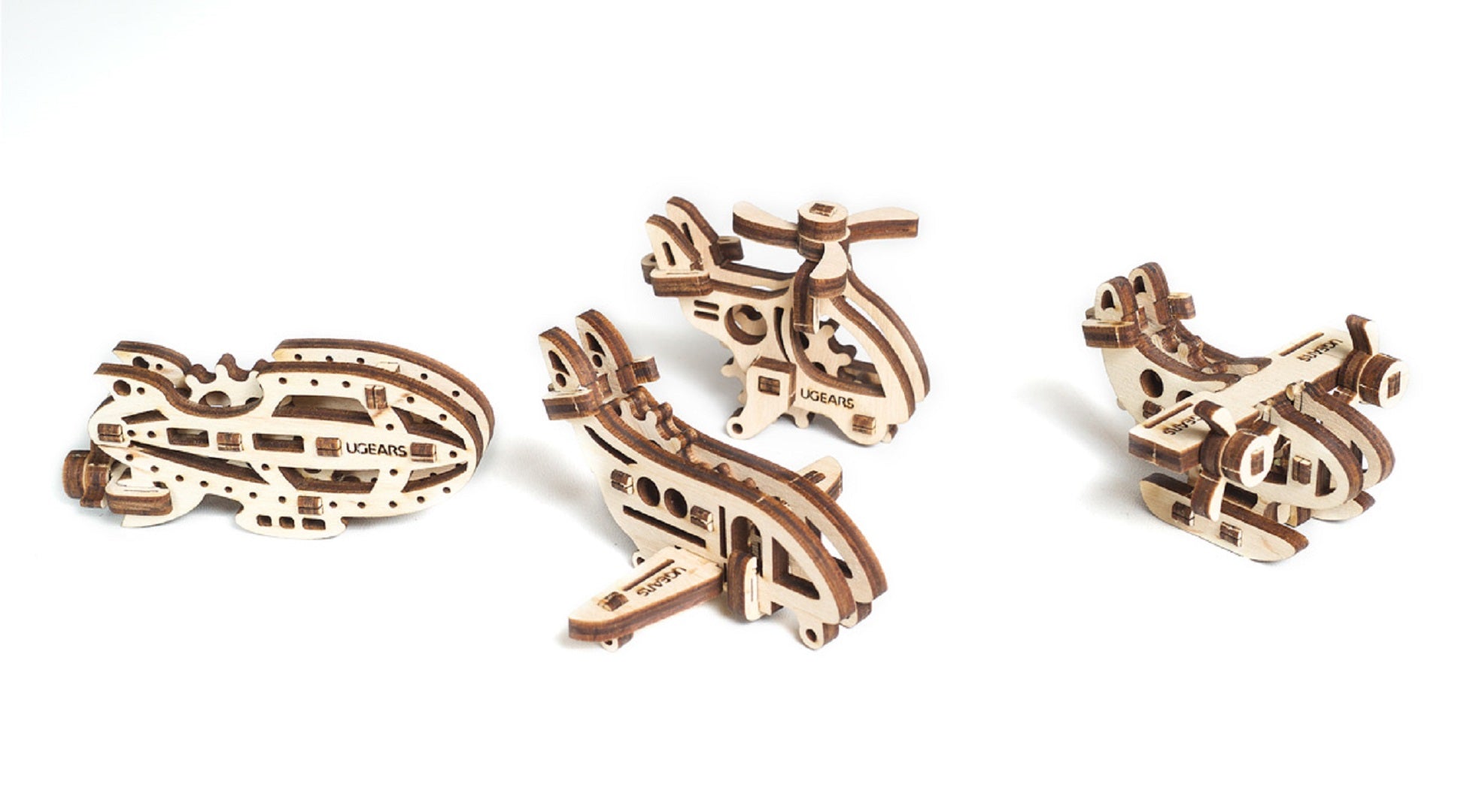 At UGEARS, we understand fidgeting with something can sometimes calm your anxieties. Our 3D puzzle U-Fidgets are designed to do just that. Made of high-quality natural wood products, these little mechanisms only take 10-30 minutes to assemble, and they are small enough to fit into a pocket, a purse, or even the palm of your hand.
Why Fidgets?
Kids as young as age five can benefit from the calming effects of UGEARS U-Fidgets. They're also great for older children, adults, and the elderly. Some benefits that come from having a U-Fidget on hand include:
Reducing anxiety in high-stress situations
Encouraging greater focus when it is required
Assisting in quitting a bad habit
Helping you organize your thoughts
Encouraging you to come up with new ideas
Some people are just naturally a little more anxious than others. When an awkward situation arises, it's nice to know you've taken the time to put together a U-Fidget, and it's right in your pocket when you need it.
U-Fidget Sets
Each of our UGEARS U-Fidget wooden model kit sets come with four fidgets. They each assemble quickly and are a great activity to encourage strengthened relationships between children, parents, siblings, and grandparents. Some sets you might find interesting include:
Tribiks — Consisting of four tribiks, these tiny trinkets are each made up of 10 pieces.
Vehicles — The Vehicle set includes a tramcar, sports car, truck, and tractor, each with 14-18 pieces.
Aircraft — Each aircraft model includes between 13 and 19 pieces, including an airship, airplane, hydroplane, and helicopter.
Ships — The four boats in this set are a sailboat, submarine, yacht, and boat, each with 12-17 pieces.
Creation — Consisting of a movie camera, book, guitar, and Parthenon, the Creation models together have a total of 48 pieces.
Happy New Gear — These tiny mechanical gears contain a total of 37 pieces and create a clock, sock, Christmas tree, and ball ornament.
Gearsmas — The Gearsmas fidgets include a snowman, moon, bell, and snowflake, with a total of 36 pieces.
Bravery — The Bravery fidgets include a trident, the ghost of Kyiv, Patron the bomb-sniffing dog, and signals intelligence station with a total of 45 pieces. 
Invincibility — The Invincibility fidgets include a trident-falcon, armored car, combat drone, and anti-submarine corvette with a total of 43 pieces.
The Pacific Ocean — features four iconic sea creatures: whale, stingray, shark, and seahorse with a total of 33 pieces.
The Atlantic Ocean — features a compass to guide your voyages and three majestic ocean creatures: dolphin, sea turtle, and hammerhead shark with a total of 38 pieces.
As you can see, the UGEARS U-Fidget Series isn't complicated, but it does offer plenty of fun and excitement. Bringing families together and relieving anxieties, U-Fidgets are some of the best mechanisms to start with if you're new to 3D puzzles.