New model - UGears Drift Cobra Racing Car
New model - UGears Drift Cobra Racing Car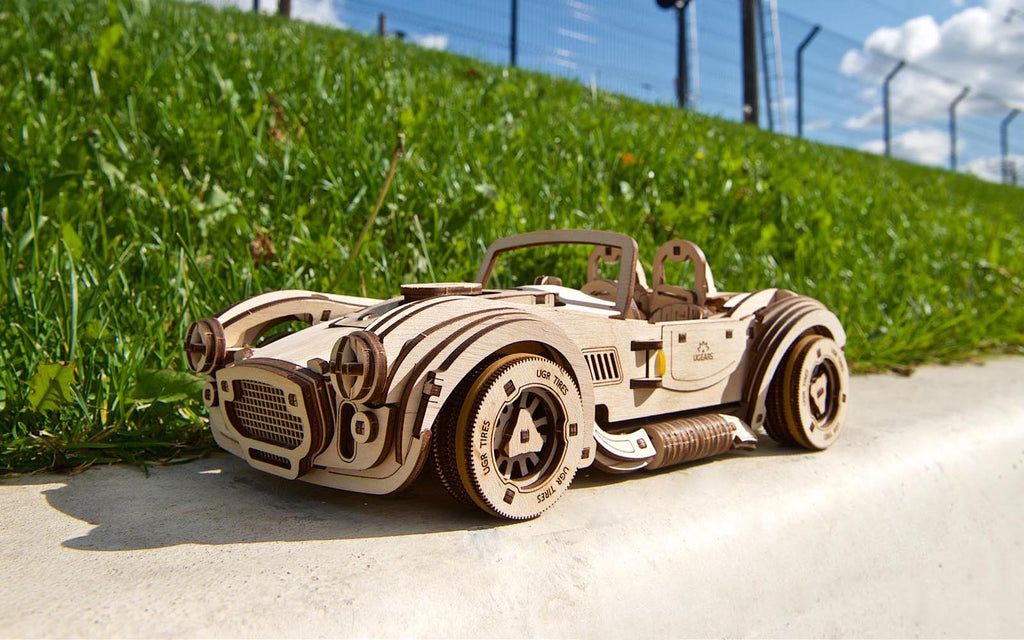 Introducing the Drift Cobra Racing Car, a beautifully-styled, two-seat convertible.
We know you love car modeling and you love the Ugears Dream Cabriolet, Roadster, and U-9 Grand Prix. Well, make room on the shelf, because a powerful new mechanical model just muscled its way into the Ugears Automotive collection. UGears Drift Cobra Racing Car is our twist on what may be the most revered sports car of all time: the Shelby Cobra 427. The Cobra 427, produced between 1965-67, had a 7.0 liter 450-510 horsepower engine, did 0-60 mph in just over 4 seconds, and had a top speed of 185 mph.
Designed for drag racing but street legal, muscle cars offer incredible automotive power at a relatively affordable price point. The scarcity and unbelievable auction prices today of some of these classic street beasts are due in no small part to the fact that they were often more cars than their owners could handle, resulting in frequent crashes. Muscle cars have squared off in many an illegal street race, sometimes with ownership papers on the line (another way to lose your muscle car!). In that spirit, why not convene a gathering of model building friends, show off your newly-built Ugears Drift Cobra Racing Cars, put your car modeling prowess to the test, and race for pinks! But remember: the first rule of Ugears race club is: you do not talk about Ugears race club. The second rule of the Ugears race club is: you do not talk about Ugears race club!
Driven by a powerful spring motor, the Ugears Drift Cobra Racing Car has the fastest team of horses under the hood of any mechanical wooden model we know. The model is wound by means of a ratchet knob under the chassis.
Before winding your 3-D wooden Drift Cobra model racing car, move the air filter that protrudes from the hood toward the windshield, and flip the switch in front of the passenger-side seat into the Lock position (parallel to the door). Now twist the ratchet underneath the car's body. After 6 to 6.5 turns of the knob the spring is fully loaded, and—vroom! vroom!—your racer is ready to roar! Set the gear shift lever, located between the driver and passenger seats, to the desired position (Reverse, Neutral, Drive).
To start the model, set it down on a flat surface, slide the air filter forward, and watch your Cobra lay rubber in a spin out (start with the wheels turned to one side), do circles, or speed down the track in a straight line.
To put the model in "drift mode," turn the front wheels fully to one side or the other, set it down on a smooth surface such as tile, and watch as the model peels out in a sideways skid (ideally, your model should make a half to a full revolution before continuing forward, depending on the driving surface and turn angle of the wheels).
When the wheels are set in their straight position, the model covers a lot of ground—8 meters or more! Set the wheels in a gentler turn, or put the racer down on a less slippery surface, and watch your Drift Cobra complete two or three full circles.
We think this 3D puzzle / DIY model is a beauty, with its fat tires, bulging curves (thanks to pieces that are precision laser-cut into fine 1mm plywood), a big open mouth upfront, and open-air convertible design. This wooden car's moving parts include turning front wheels, doors that open, and a hood and trunk that can be raised. Instead of a rubber band motor we've used a powerful spring mechanism to provide the "muscle" in this racer and extend the model's usable life. The ratchet mechanism means you don't have to hold the knob the entire time you're winding the model—potential energy is stored with each twist, without slippage, until the strong internal spring is fully loaded.
The DIY model kit for the Drift Cobra Racing Car includes 370 parts, with an estimated assembly time of nine hours, and is rated Advanced level. Why not take a page out of Carroll Shelby's book and experience the pride and satisfaction of building a beautiful, functional automotive machine with your own hands. Everything you need for this challenging but doable DIY wooden puzzle project comes right in the box: high quality plywood boards with precision laser-cut pieces that you snap out then snap together without the need of glue or special tools, a metal spring that powers the mechanism, and of course a set of detailed, illustrated instructions in 11 languages.
Ugears model kits appeal to builders and hobbyists who love quality, clever design, and who appreciate ingenious mechanical elements with real world analogs. The Ugears Drift Cobra Racing Car is a great DIY idea and perfect gift idea for car lovers among your circle of friends and family. Anyone who loved the film Ford v Ferrari, who loves car modeling, DIY projects, 3D puzzles, or who appreciates outstanding mechanical and aesthetic design, is going to love the Drift Cobra Racing Car.
Self-assembly, no glue needed 
Recommended Age: 14+
Model size: 10*8.3*4.5 in
Package size:  14.9*6.7*1.3 in
Number of components: 370
Estimated time for assembly: 9 hours