UGears Models Overview
UGears Models Overview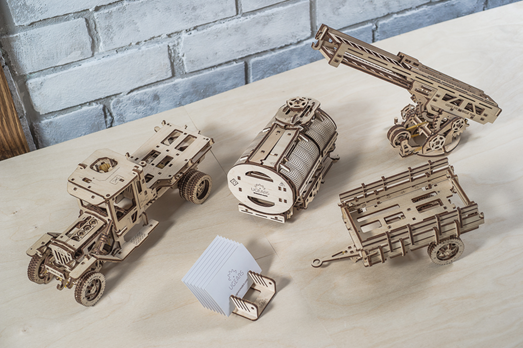 We are presenting new UGears Mechanical Models!
All of the products below will be available for sale early to mid November.  Make sure to visit the store frequently for the updates.
The Additions for the Truck (Tanker, Fire Ladder and Chassis) easily transform your Truck into Tanker & Rescue& Fire Truck.
The Rescue Ladder works like in a real Rescue& Fire Truck. The Ladder is put forward, the foot is turned. Ascend the ladder and you'll get a real crane with hook.
The Tanker is equipped with the unique opening mechanism. The tanker is designed and fit well for standard 0.33 L (12 oz.) cans.
The Trailer Chassis has very realistic springs which are swinging during driving.
Mechanical Flower is a tempting gift idea for your beloved one. Elegant petals, pleasant smell of wood, with Ballerina & Tree of Luck for your favorite jewelry inside.
Combination Lock. Inspired by "The Da Vinci Code". Assemble UGEARS Lock and get the idea of modern combination lock principle.  Try to create your own Da Vinci Code's Cryptex with 1000 combinations of 3-digit code. You can hide the keys, small items and your own secrets inside.  Convenient "eyelet" to hang the lock on a bag.
Tribiks - 4 different models: tractor, cat, head, heart. The best model for those who are just beginning to learn Ugears. Easy to assemble, compact design. A great souvenir for children and adults. It can be used as a trinket for your keys or bags.