UGears Models Overview - Mechanical Town
UGears Models Overview - Mechanical Town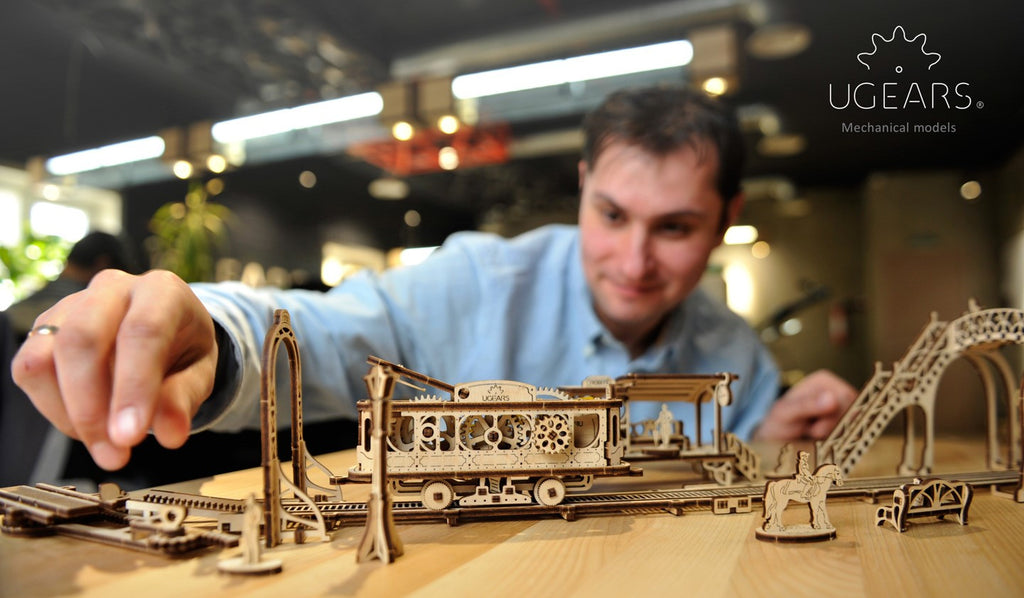 UGears Mechanical Town Series 
UGears came on with the idea to create the unique Mechanical Town on the river's bank, open to all winds, religions and ideas, a town of musicians, artists and inventors, masters and warriors. The most amazing town on the earth.
So, we are glad to inform you that we are launching "Tram Line",  the first mechanical model from the new  Mechanical Town Series. It is available for pre-order here.
Tram Line  model consists of 14 smaller models, which come in a convenient scale for building and playing with. The new model has gaming component. It's great for hobby & collection.
Each smaller model has a unique design and interesting engineering.  UGEARS' Tram Line model doesn't need glue or special tools or even toothpicks to connect parts, which makes putting it together even more exciting.
The fully assembled model retains moving parts and elements and remains entertaining and educational for family projects.
Tram Car is equipped with an overhead pantograph for stepping it up to "drive" mode  and a knob for opening  and closing doors. Wind-up of the tram car and watch it move on the 
rails, entering into the Depot. After turning on 180 degree on the turntable, it moves on its own to the end of the line. 

There are no batteries inside: just gears, wheels, cranks, and rubber band engine! 
Tram Stop complete with a clock, a bench, a little stairs  and a Ticket Kiosk. The stairs are removable and can be placed in any part of platform
A Tram Depot with a gate where the tram drives in and where it prepares for the next trip according to the  route timetable. The depot is also equipped with a turntable for turning the tram on 180 degree for the next trip. There is a special "tongue" on the rails of the turntable which stops the tram in the closed position, and reclines after the turn of the turntable allowing the tram move on the return route.
Footbridge – the pedestrian crossing - is made in the form of arches and set across the tracks. It can also be located at a crossroads, and cars can pass through arches.
Other smaller models include Straight track, Radius Tracks with Junction, Street Lamps, and seven small characters.
UGears Gift Cards
Electronic Gift Cards are now available for purchase at different nominations.  You can use them in combination with discount codes as they are a form of payment, which never expires. If you don't know which model to pick, it will be a good substitute as a gift. 
As always, shopping with us you will get Free and Fast shipping and all the support you need to build the model.