Presenting HogwartsTM Express!
Presenting HogwartsTM Express!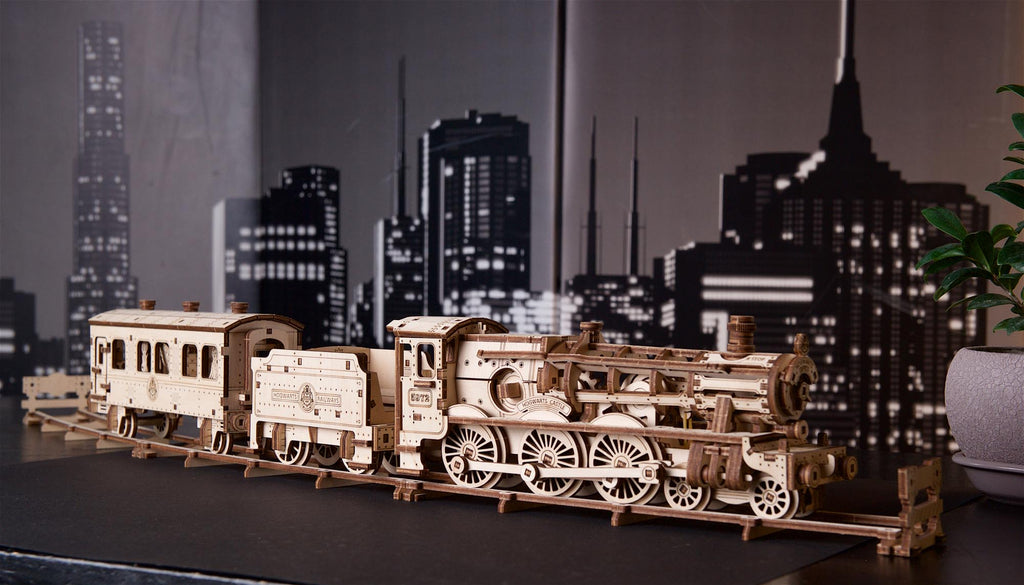 HOGWARTSTM EXPRESS
Assemble me. Depart to HogwartsTM with me
The HOGWARTSTM EXPRESS can be run on its own or coupled with two cars—a coal tender and a passenger carriage. The passenger carriage has three compartments, three doors that open, and a removable roof, allowing you to place the figurines of Harry Potter, Hermione Granger, and Ronald Weasley on special mounts that move side-to-side when the train is in motion.
Wind the model with the special key, twist the smokestack Start/Stop switch, then watch the mesmerizing motion of the locomotive's gears, wheels, and connecting rods as it chugs ahead.
The Ugears HogwartsTM Express can travel 4 meters (with tender and carriage) or 6 meters (locomotive only) on any smooth, flat surface.
The handsome locomotive can be run on its own or coupled with two cars - a coal tender and a passenger carriage. The tender has an empty coal compartment in which you can store the train's wind-up key or other small objects.
The locomotive is the driving force of the model, with its metal spring engine and gears that transmit power to the moving wheels.
The locomotive is wound using a special key (there are winding slots on both the left and right side of the engine), but first be sure to twist the smokestack to the "Stop" position.
Once the spring is wound, hold the model while twisting the smokestack to the "Start" position, then release and watch the train pull out in a straight line. Look at those beautiful train engine wheels and coupling rods in action!
The model is rated "Advanced" difficulty level with an estimated assembly time of 7 hours. The locomotive can be assembled in about 3 hours, giving you a head start on an imaginative play! 
This DIY wooden model kit consists of 504 parts that are laser pre-cut into wooden boards.
To assemble, simply remove the pieces from the boards and snap them together following the detailed, illustrated instructions available in 11 languages. One of the great things about our models is that no glue or special tools are required—everything you need for assembly is included in the box.
Model size: 36*4.9*39 in (90.5*12.5*10 cm)
Package size:  14.9*6.7*2 in (37.8*17*5 cm)
Number of components: 504
Estimated time for assembly: 7 hours 
Ugears' outstanding collection of mechanical 3D puzzles, DIY model kits, automatons, robots, wooden puzzle boxes, and STEM Lab model kits are enjoyed by experienced model hobbyists and beginning builders the world over.
If you break a part during assembly just send an email to our outstanding customer service team at customerservice@ugearsmodels.com and we'll be glad to send you replacement parts at no additional cost, as part of our overall commitment to customer service.
HogwartsTM Express. Assemble me. Depart to HogwartsTM with me!
WIZARDING WORLD characters, names, and related indicia are © & ™ Warner Bros. Entertainment Inc. WB SHIELD: © & ™ WBEI. Publishing Rights © JKR. (s22)