Four New UGEARS Models are Available
Four New UGEARS Models are Available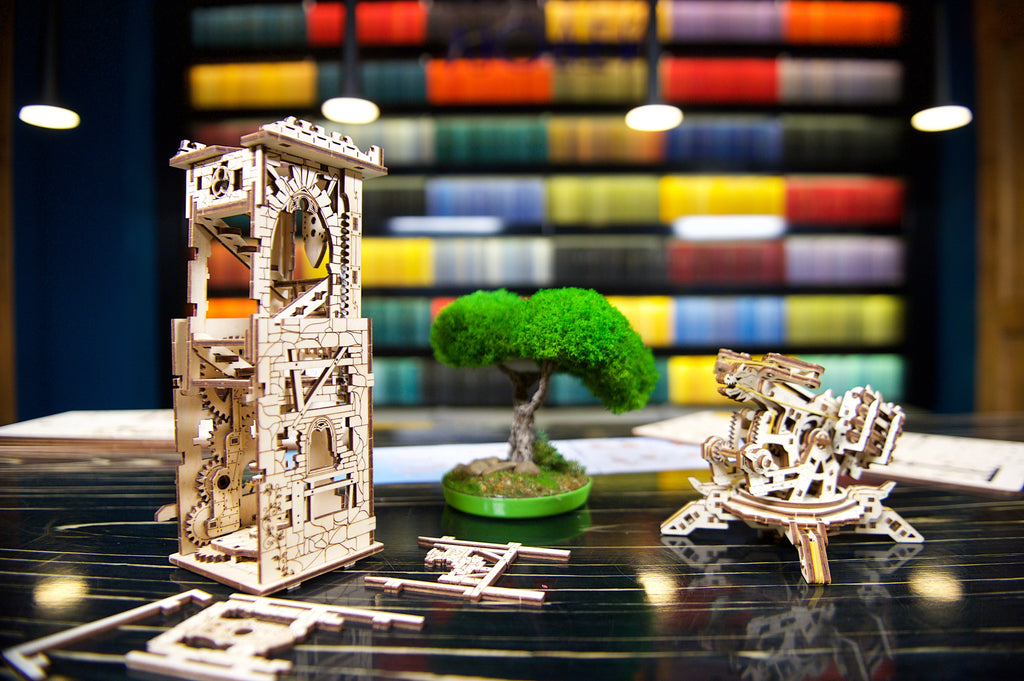 Four new models listed below are available for purchase with immediate dispatch.  Get yours today!
Model Flexi-Cubus 
Flexi-Cubus is a mechanical anti-stress puzzle in the form of a steampunk skeleton cube made out of eight joint-connected spheres. The Flexi-Cubus is designed as a means to improve your attention and focus on a task you are working on.
Model Archballista-Tower
UGEARS goes romantically medieval and invites you to become a siegecraft expert with its new exciting model – Archnallista and Tower. Inspired by the best examples of ancient artillery, legendary battles of the past re-enacted in films, books, and games, this model provides a new spin on the classic war machine to test you great conqueror's skill.
Model Stagecoach
UGEARS introduces the legendary carrier from the late 18th – 19th century, a model that would be a delight to your eyes and at the same time would be able to face the challenges of the Wild West – should you decide to re-create this romantic period at home with your family.
U-Fidgets Creation
The unique set of 4 individual miniature models for self-assembly for grown-ups and kids from 5 years to 80 and beyond. The set includes Movie camera, Guitar, Book, Parthenon, each model has basic elements of mechanics.
Mechanical Evolution Kickstarter
Ugears continues to explore the mystery of mechanics and this March exclusively on Kickstarter presents the fascinating range of 12 absolutely unique models inspired by historical mechanisms from the Middle Ages to nowadays: The Horse-Mechanoid, the Archballista-Tower, the Tower Windmill, the Stagecoach, the V-Express Steam Train with Tender, the Secret model, the Roadster, the Aviator, the Bike, the Heavy Boy Long-Hauler with the Trailer, and the Flexi-Cubus. They are ready to become your companions in an exciting adventure through the ages on the way to discover the evolution of mechanics. 

Three of these models are already available for purchase on our website www.ugears.us.  The rest will be available in August once Kickstarter orders are fulfilled.
GIVEAWAY!
We have one of the new models - Stagecoach - available for Giveaway.  Follow the link below to get your entries (yes, multiple entries).  Hurry, only 10 days left to enter!
STAGECOACH GIVEAWAY