Sale and New STEM LAB Models on Pre-Order
Sale and New STEM LAB Models on Pre-Order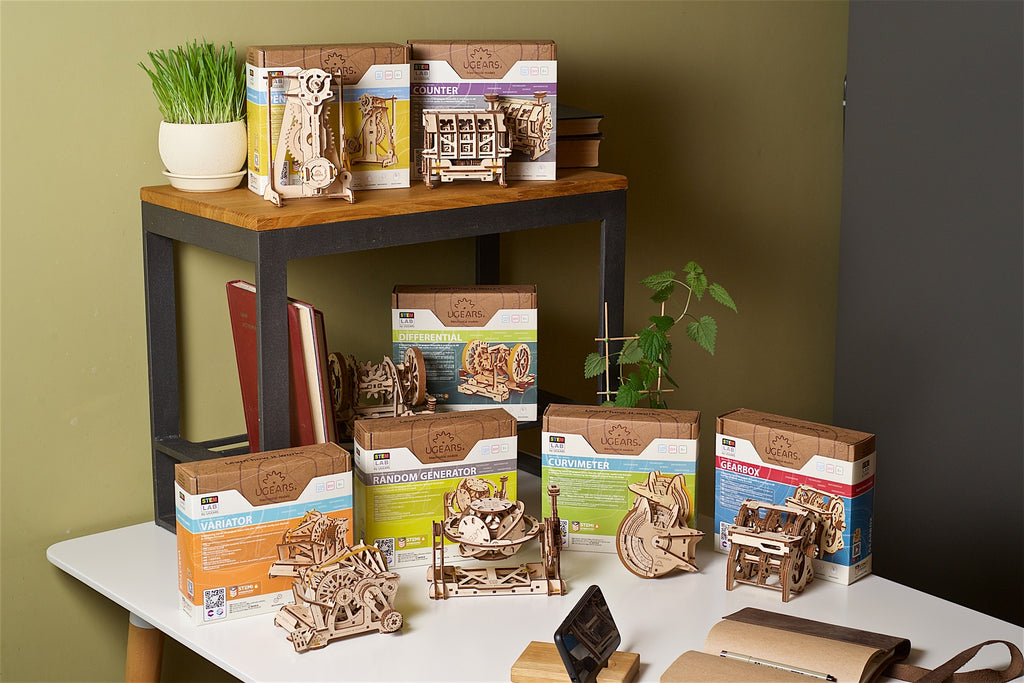 Greeting Spring with an Amazing Sale!
GIDDY UP FOR A FUN RIDE!

Did you see last week's sale? Well, this week we have another fantastic sale and new models available for pre-order to share with you.
Tram on Rails Sale this week:
March 16rd - 22th
The Tram model kit doesn't need any fixing, but it does need building! 154 precision-cut parts are provided as part of the kit to be constructed according to a precise manual provided. Get up close and personal with a fully functional miniaturized model of the iconic tram's propulsion system which has stood the test of time for over 100 years.

Add this charming model car to your model city!
COMING SOON: Theater Sale
March 23rd - 30th
The mechanical UGears Theater model is a beginner-level puzzle kit that is suitable for adults over the age of fourteen and children under supervision.

Even if brain-teasers aren't your favorite afternoon activity, this kit is an approachable way to create your own mechanical masterpiece.
OPEN FOR PRE-ORDER
STEM LAB Random Generator
The mechanical Random Number Generator, as you might have guessed from its name, is a device that generates random numbers and provides different random results based on probability theory. How it does this is exactly what the Ugears STEM model will demonstrate.

The main element of the Random Generator's design is a cube with an octahedron inside it that in its turn contains a metal ball to provide weight. This construction is powered by a rack-and-gear drive initiated manually and providing energy through a driven gear that rotates a three-axle gear. This is how the cube with all its contents begins to move, which is important for summoning the magic of randomness.
Of course, we can only call it magic until we know the science of it. And to learn it, let us take a closer look at the main structure.
OPEN FOR PRE-ORDER
STEM LAB Variator
The Variator is a device that transfers and adjusts the engine torque by changing the ratio of gears. Gear ratio can change automatically, manually or within a pre-set program. The term most drivers and automobile enthusiasts are more accustomed with is Continuously Variable Transmission, or CVT.

With the Ugears Variator model of the STEM lab collection you can learn and comprehend one of the most important parts of a car without soiling your hands in machine oil!
The model kit comes with a QR-code that will forward you to the learning guide about the mechanism, the principal of its working, the main characteristics, formulas, and interesting assignments.
Free and Quick
Get FREE and QUICK Ground (2-5 days) Shipping within the U.S. on All Orders $19 or Above! 

Add U-Fidgets of your choice to the cart and receive them for free ($9.99 Value) with the purchase of $75 or more!
Want to be the first to know the latest news? On our Facebook page, click the "Following" button above the feed right and under the page video, check "See First" under Your News Feed and "On (Highlighted Posts)" under Notifications.