Congratulations to the winners of the Second Annual Challenge!
Congratulations to the winners of the Second Annual Challenge!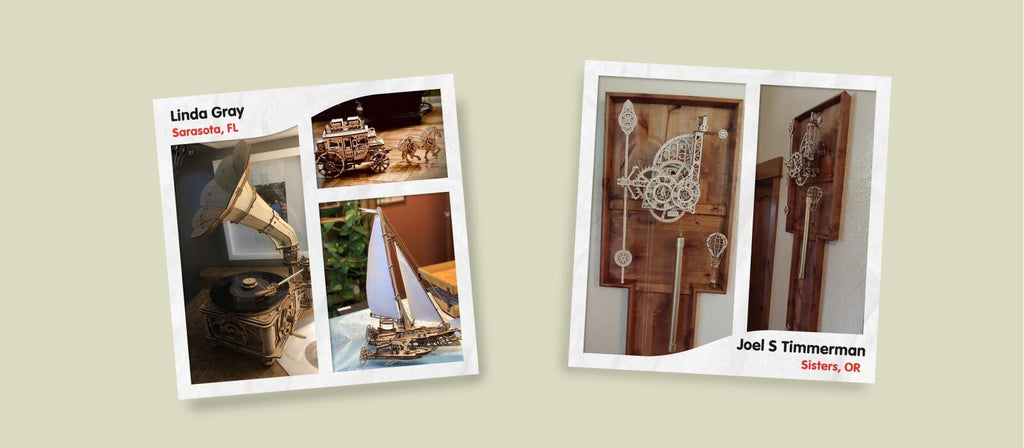 UGEARS.US Second Annual Challenge is over!
Customers have voted and we have two winners to announce! 
Congratulations to Joel from Sisters, OR with the Aero Clock project, and
Linda from Sarasota, FL with her multiple artistic creations! 
Both winners will get a model of their choice!
We also would like to thank all participants and feature their models one more time! 
Keep creating and sharing your amazing masterpieces!
Here are your awesome creations:
Caleb Fulton:
Manufactured custom wings - scaly, black top with a dark, starry bottom
Gregory Gorski:
Assembled V-Express Steam Train
 Ralph:
Painted his creation
Jimbo:
Lightly sanded the parts and lightly melted the wax and it worked easier.
 Joel:
Replaced the white weight cloth sack with a 1" pvc pipe caped on both ends filled with lead shot all painted gold on the outside. Also added some lead shot inside the gondola to make it hang more true. Balanced weight distribution of the balloon by adding some of the wood weight disk under the balloon. Hand made a knotty alder wood frame to hang the clock and mounted the unit on the wall.
 John:
Stained, painted, and applied marker
 Kayla:
Stained his creations with chocolate and cherry for a rustic steampunk look
 Larry:
Used used baby wipes, mostly water to make any acrylic color turn into a beautiful thin stain. You still need to keep the parts where they go together free of paint or stain. I used bright color's and red is always my favorite color for a sports car.
 Linda:
Rigged it all using suture needles
 Marcus:
Wanted the natural look of the wood to show. He really liked how the different shades of the wood accented the body
 Patrick:
Painted his treasure chest